Peasant Poverty & Persistence in the 21st Century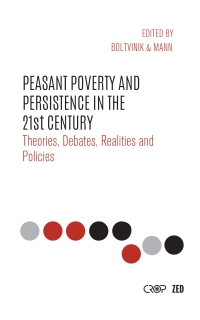 BOOK LAUNCH: Hosted by the Department of Development Studies, The School of Oriental & African Studies (SOAS).
30 November 2016 | London, UK
Peasants are a majority of the world's poor. Despite this, there has been little effort to bridge the fields of peasant and poverty studies. Peasant Poverty and Persistence in the Twenty-first Century provides a much-needed critical perspective linking three central questions: Why has peasantry, unlike other areas of non-capitalist production, persisted? Why are the vast majority of peasants poor? And how are these two questions related?

Interweaving contributions from various disciplines, the book provides a range of responses, offering new theoretical, historical and policy perspectives on this peasant 'world drama'. Scholars from both South and North argue that we must build upon the peasant economy's advantages over agricultural capitalism in meeting the challenges of feeding the growing world population while sustaining the environment.

Speakers:

Julio Boltvinik (El Colegio de México),
Discussant: Cristobal Kay (ISS)
Date: Wednesday, 30 November 2016 (17:15-19:00)
Venue: G51, Main Building, The School of Oriental & African Studies (SOAS), Thornhaugh Street, Russell Square, London WC1H 0XG.


22.02.2017