Reflections on Recent Welfare Reform in China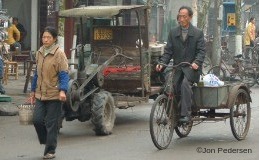 CROP POVERTY BRIEF 44: By Kristin Dalen (Researcher at the Fafo Research Foundation in Oslo and a PhD candidate at the Institute for Comparative Politics at the University of Bergen).
November 2018


This Special Issue Brief is part of a series of short research notes from an international workshop on "Perspectives on the Democratic Developmental State" held in Cape Town in February 2018, supported by the CROP/UiB-UKZN-CODESRIA UTFORSK Partnership for Poverty and Sustainable Development Studies.
The Brief looks at the development of a welfare state in China, with a particular focus on reducing poverty and inequality. It also details the Chinese government's strategies to fight poverty and reduce inequality, and asks whether a focus on equality and distribution has the potential to strengthen the legitimacy of the regime.
CROP Poverty brief 44: Reflections on Recent Welfare Reform in China

Overview of CROP Poverty Briefs

31.01.2019