EADI ISS Conference 2020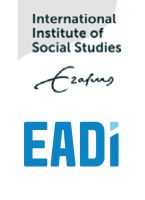 CALL FOR PANELS: Solidarity, Peace and Social Justice (deadline 6 September)
29 June - 2 July 2020 | The Hague, Netherlands
The European Association of Development Research and Training Institutes (EADI) and the International Institute of Social Studies (ISS) at Erasmus University will organize the 16th EADI General Conference.
The central theme of the conference is "Solidarity, Peace and Social Justice". Together, these three concepts represent aspirations for approaches to global development that address inequality, poverty and political marginalisation, also in connection with climate change and other environmental threats.

Conference participants are invited to reflect on any aspect of solidarity, peace, and social justice, such as, but not exclusively, how can we:
give new meanings to solidarity in a period of growing distrust between and within nations and amongst people?
as development scholars and practitioners, contribute to peace and social justice in our work?
find new understandings and/or explanations to the concept of 'development', without simply adding new adjectives?
The organisers cordially invite session proposals from researchers, practitioners and activists from NGO/academic networks as well as study/research consortia.

The deadline for the submission of session proposals panels is 6 September 2019.

Visit the conference website for further submission details.

24.05.2019