SCIENTIFIC COMMITEE MEETING AND WORKSHOP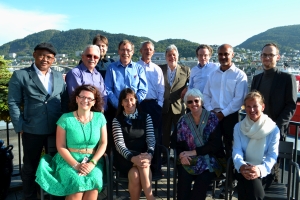 MEETING in Bergen with the CROP Scientific Committee
30 June - 1 July 2014 | Bergen, Norway
On 30 June 30 and 1 July 2014, the CROP Secretariat gathered the members of the CROP Scientific Committee in Bergen for a meeting with an extensive agenda to cover. As part of the topics discussed the committee worked on strategic issues such as CROP Strategic Plan and CROP Communication Plan 2015 -2020.
Thomas Pogge (Yale Univ), chair of the Scientific Committee, presided the meeting with the Scientific Committee members; Norman Duncan (Univ. of Pretoria), Varun Gauri (World Bank), David Hulme (Univ. of Manchester), Alberto Minujin (New School), Elma Montaña (IAI Uruguay), Etienne Nel (Univ. of Otago), Mathieu Denis (ISSC) and the rector of the University of Bergen, Dag Rune Olsen (the two latter being ex-oficio members). The head of UiB Global, Gro Lie, participated as an observer, together with the director and staff of the secretariat.
Topics such as the Activities Report 2013, Financial Report 2013 and the Fellows Program were discussed during the meeting, as well as the current situation and future plans for CROPs publications on poverty.

On July 1, an internal workshop on the post-2015 development goals were followed up a public event organised by CROP together with local partners; Bergen Summer Research School and Bergen Resource Center for International Development. A round table: "The New Development Agenda: Completely Eradicating Poverty by 2030?" was offered to the 70 graduate students of the summer school, as well as other interested parties – with great success.
24.02.2016