Working Paper Series - Global Challenges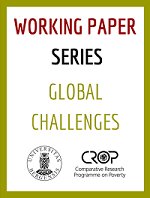 This series seeks to disseminate research focused on issues such as poverty and inequality, sustainability, and other relevant global challenges.
The working paper series (WPS) is a joint effort between CROP and UiB Global Challenges and was conceived as a vehicle for scholars in our mutual global network to swiftly disseminate their research.
Papers received are subject to peer review and are approved for publication by an Editorial Board. For more information, please contact: crop@uib.no

Open access to all papers is available through Bergen Open Research Archive (BORA) at the University of Bergen.


OPEN ACCESS TO WORKING PAPER SERIES

An overview of papers published so far can be found below:
13.12.2018