CROP Poverty Briefs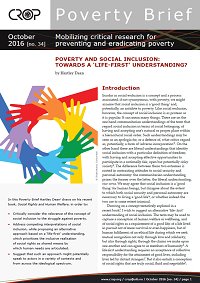 The CROP Poverty Brief Series comprises a series of short research notes highlighting recent research and trends in global poverty.
The ideas contained in CROP Poverty Briefs are those of the named authors and do not necessarily reflect a consensus view of CROP. They are distributed as a contribution to the effort to "mobilize critical research for preventing and eradicating poverty".
CROP is interested in receiving texts for consideration to be included in the Poverty Brief Series.

See CROP Poverty Brief Guidelines for further information.
Below is an overview of all briefs in the series so far:

02.11.2018