New Global Research Programme on Inequality (GRIP)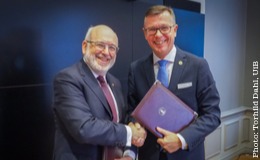 The University of Bergen (UiB) and the International Science Council have signed a new agreement for a Global Research Programme on Inequality (GRIP).
15 October 2019
​GRIP has been established as a "radically interdisciplinary research programme" that views inequality as both a fundamental challenge to human well-being and an impediment to the achievement of the ambitions of the 2030 Agenda.
"Today we are turning a new page and UiB is extremely pleased to be signing an agreement for a new programme with the ISC. UiB has for several years recognised and worked with the SDGs and the 2030 Agenda. With its focus on inequality, GRIP will deepen this effort by working truly globally", said UiB Rector Dag Rune Olsen.
Building on the foundation provided by CROP, GRIP will integrate different empirical and theoretical, qualitative and quantitative, local and comparative/global research approaches. Designed as an inter-disciplinary programme with an anchor in the social sciences, GRIP will involve health, data, natural and other sciences, in co-designed processes of knowledge construction.
"A key challenge for contemporary science is finding and identifying pathways to global sustainability that can reduce inequality and lift people out of poverty. Some of the significant gains that have been made in reducing poverty are now being threatened by pressing global challenges such as climate change, biodiversity loss and conflict. The GRIP programme, by providing a vibrant and interactive network of social scientists that collaborate on these issues, can build the critical knowledge required to identify and develop these pathways", said Mathieu Denis, ISC Science Director.
An increasing amount of knowledge has established that inequality is a multidimensional and complex challenge to human development, prosperity and well-being. Research has also suggested that inequalities – in wealth, lifespan or through geography – may actually be increasing rather than being reduced. In such a global context, exacerbated by climate change, GRIP will approach inequality as irreducible to socio-economic indicators alone. GRIP therefore proposes to understand inequality through six inter-related domains:
social
economic
political
environmental
cultural
knowledge-based
In working globally, GRIP will also have a focus on the rising importance of the economies and knowledge transfer in the Global South.
In the coming months the ISC and the UiB will define the programme's mandate and a general framework for its activities. The UiB will continue to host the secretariat and provide its main source of funding.
The agreement was signed by ISC President-elect Sir Peter Gluckman and UiB Rector Dag Rune Olsen.
[This above text is based on an article published by the International Science Council on 15 October 2019]
14.04.2020