LO ESENCIAL NO PUEDE SER INVISIBLE A LOS OJOS: POBREZA E INFANCIA EN AMÉRICA LATINA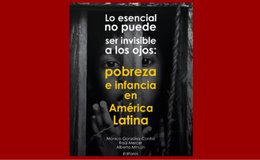 PUBLICATION: Book on Child Poverty in Latin America edited by Mónica González Contró, Raúl Mercer, and Alberto Minujin.
April 2016
​The core purpose of this book is to show that the debate on poverty in Latin America, specifically childhood and teenage poverty, must be part of a larger discussion involving justice, freedom, citizenship, identity, participation, and peace on a global level. It attempts to promote efforts in the region to generate a line of thinking about social policy. The focus is on lasting alternatives that are unconstrained by traditional views about social policy's formulation and implementation.
The book is currently available in Spanish only and was published in Mexico in April 2016.
The full text is available for download in pdf-format.
This book comes out of a workshop organised by:
Universidad Nacional Autónoma de Mxico
Instituto de Investigaciones Jurdicas
Facultad Latinoamericana de Ciencias Sociales-Mxico
CROP
Equity for Children
ISBN Flacso Mexico: 978-607-9275-80-9; ISBN UNAM: 978-607-02-7385-8



22.12.2016