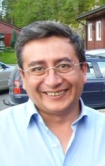 Juan Fernando Téran
Professor National Institute of Higher Studies (IAEN), ECUADOR
Juan Fernando Téran is professor at the National Institute of higher Studies (IAEN), Quito, Ecuador
At IAEN he works in the research department where he also teaches courses on global environmental governance and
ecology; economic policies applied in Latin America; political economy of natural resources and energy; economics of climate change.

Formerly he worked at the Simon Bolivar Andean University (UASB), where he still is an adjunct professor in social and global studies.
He was educated at José Ma. Luis Mora Research Institute, México, D.F., completing the master program in political sociology there. His research interests include the production of poverty as an effect of global policies for environmental and financial governance.

His books include "La infraestructura como necesidad y los pobres como pretexto" (UASB), and "Las quimeras y sus caminos. La gobernanza del agua y sus dispositivos para la producción de pobreza rural en los Andes ecuatorianos" (CLACSO-CROP).