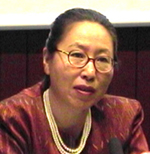 Sakiko Fukuda-Parr
Professor The New School Graduate Program in International Affairs, USA
Sakiko Fukuda-Parr is Professor of International Affairs at the New School and also serves as Interim Dean for Academic Affairs of the Milano The New School for Management and Urban Policy.
She is a development economist working in the multidisciplinary framework of capabilities and human development, and currently works on human rights and poverty, conflict prevention, and global technology. From 1995 to 2004, she was lead author and director of the UNDP Human Development Reports.
A Japanese national, Prof. Fukuda-Parr received her BA from Cambridge University (UK), MALD from the Fletcher School of Law and Diplomacy (USA), and MA from the University of Sussex (UK). 
Her publications, in addition to the Human Development Reports, include: The Gene Revolution: GM Crops and Unequal Development; Readings in Human Development; Rethinking Technical Cooperation - Reforms for capacity building in Africa; Capacity for Development - Old Problems, New Solutions, and numerous papers and book chapters on issues of poverty, gender, human rights, technology.
She founded and is editor of the Journal of Human Development, and is on the Editorial Board of Feminist Economics. She is also on the board of several NGOs that advocate human rights and technology for development.She is a member of the Committee on Development Policy of the UN ECOSOC, and of the High Level Task Force on the Right to Development of the UN Human Rights Council.