Trade Policies, Household Welfare and Poverty Alleviation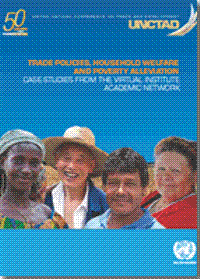 BOOK: Case Studies from the Virtual Institute Academic Network examine the impact of trade policy on poverty.
UNCTAD, August 2014
This novel collaborative approach between academics and policymakers examines the impact of trade policy on poor people in eight developing and transition countries in a new book published by UNCTAD Virtual Insitute (Vi).
The studies carrried out in the Philippines, the Former Yugoslav Republic of Macedonia, Argentina, China, Costa Rica, Peru, Nigeria and Vietnam address the relationship between globalisation and poverty in the context of two broad themes. One set of studies examines the welfare consequences of increasing global food prices, while the other set of studies examines the welfare effects of trade policy and exchange rate changes.
The UNCTAD Virtual Institute is a capacity-building and networking programme for academic institutions. The trade and poverty project was co-funded by the United Nations Department of Economic and Social Affiars and the Government of Finland.
The
12.09.2016