The Legal Tender of Gender: Law, Welfare, and the Regulation of Women's Poverty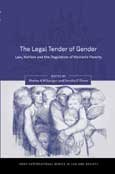 BOOK edited by Shelley A.M. Gavigan and Dorothy E. Chunn
Hart Publishing (Oñati International Series in Law & Society, Vol. 36), 2010
This collection highlights the roles played by women as reformers, welfare workers and welfare recipients, in the development of welfare states historically.
The contributors are leading feminist socio-legal scholars from a range of disciplines in Canada, the United States and Israel. Collectively, their analyses of women, law and poverty speak to long-standing and ongoing feminist concerns: the importance of historically informed research, the relevance of women's agency and resistance to the experience of inequality and injustice, the specificity of the experience of poor women and poor mothers, the implications of changes to social policy, and the possibilities for social change. Such analyses are particularly timely as the devastation of neo-liberalism becomes increasingly obvious. The current world crisis of capitalism is a defining moment for liberal states – a global catastrophe that concomitantly creates a window of opportunity for critical scholars and activists to reframe debates about social welfare, work, and equality, and to reinsert the discourse of social justice into the public consciousness and political agendae of liberal democracies.
Edited by Shelley AM Gavigan and Dorothy E Chunn, Hart Publishing (Oñati International Series in Law & Society, vol. 36) 2010, 290 pp.


Click here for more information about the book


12.09.2016