¿El reino de Dios es en este mundo? El papel ambiguo de las religiones en la lucha contra la pobreza

Genaro ZALPA & Hans Egil OFFERDAL (eds.). CLACSO-CROP Series, CLACSO-Siglo del Hombre. Bogota, December 2008.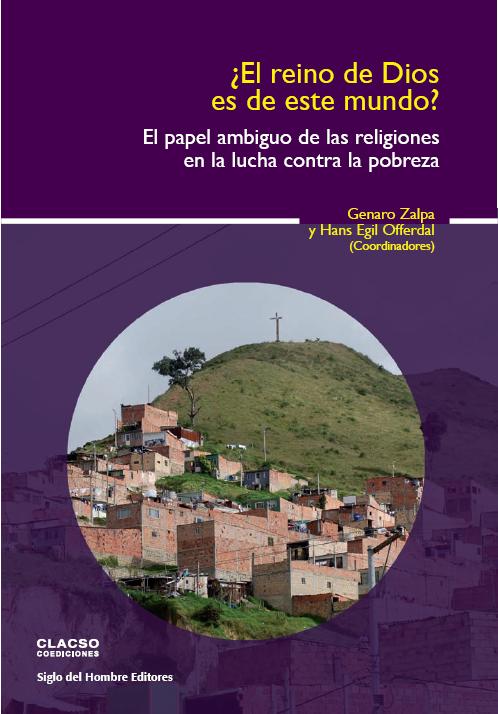 This work is a response, in form of analysis and reflection, to the renewed interest in the relationship between religion, poverty and social justice, found in virtually every religion in the world today. 14 texts approaching the theme, represented by various disciplines and case studies, are presented. The book demonstrates the ambiguous role of religion and religious actors with respect to poverty and social justice where religion can provide an important contribution – both theoretically and practically – to the fight for overcoming poverty, but also shows that religion (still) can be seen as a factor which maintains, and reproduce structures of poverty.
INDEX
INTRODUCCIÓN | 11
Genaro Zalpa y Hans Egil Offerdal
Parte I
RELIGIÓN, POBREZA Y JUSTICIA SOCIAL: UNA VISIÓN TEOLÓGICA
La opción por los pobres: análisis critico de sus posibilidades y limitaciones en un mundo globalizado  | 23
Carlos David Castro-Gómez
Pobreza, desarrollo y espiritualidad en experiencias religiosas pentecostales  | 53
Rita María Ceballos
Parte II
RELIGIÓN, POBREZA Y JUSTICIA SOCIAL: UNA VISIÓN CULTURAL
Entre el dolor de la pobreza real y el gozo de la pobreza espiritual  | 89
Paulo Coto Murillo y Moisés Salgado Ramírez
Religión y pobreza: la Iglesia Universal del Reino de Dios en Uruguay  | 115
Rodrigo Horjales, Serrana Saralegui, María Victoria Sotelo Bovino y Carolina Vicario
Un análisis sobre el movimiento Rastafari en Cuba: la riqueza espiritual como alternativa contra la pobreza  | 129
María Agustina Larrañaga
¿"De Dios venga el remedio" o "A Dios rogando y con el mazo dando"?  | 151
Genaro Zalpa
Entre las cosas de Dios y las preocupaciones terrenales: el camino contradictorio hacia la santidad en la "Iglesia de la Luz del Mundo" | 175
Luis Arturo Ávila Meléndez
Parte III
RELIGIÓN, POBREZA Y JUSTICIA SOCIAL: UNA VISIÓN SOCIOPOLÍTICA
La caridad y la limosna: ¿estrategias pastorales de erradicación o de reproducción de la pobreza?  | 201
Claudia Barrientos
El papel de la Iglesia católica en la reivindicación de los derechos de los pobres: la Iglesia de Guatemala como portavoz de los pobres  | 229
Ana Gabriela Contreras García
Evangélicos y pobreza. Refl exiones a partir del estudio de la acción social de las iglesias evangélicas en Colombia  | 253
Fabio Lozano
El Movimiento Ecuménico en Cuba. Sus estrategias contra la pobreza en los últimos 20 años  | 275
Caridad Massón Sena
Congregación y segregación: organizaciones vecinales y procesos de despolitización en las urbanizaciones confesionales evangélicas de la zona periurbana de la ciudad de Cochabamba  | 293
Nelson Antequera D.
Trayectorias creyentes/trayectorias sociales  | 315
Abelardo Jorge Soneira
La discriminación laboral de las minorías religiosas en México: un fenómeno silencioso en movimiento  | 339
Jorge E. Horbath

21.10.2014