Poverty and the Millennium Development Goals: A Critical Look Forward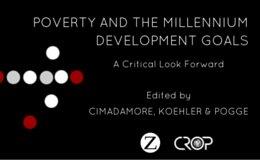 PUBLICATION: New book in the CROP International Studies in Poverty Research Series, published in February 2016 by Zed Books, London. Edited by Alberto D. Cimadamore, Gabriele Koehler and Thomas Pogge. OPEN ACCESS
15 February 2016
As the Millennium Development Goals (MDGs) pass their 2015 deadline and the international community is discussing the future of international development policy, Poverty and the Millennium Development Goals brings together leading experts to provide a much-needed critique of the prevailing development agenda. Examining the MDG development efforts and results, it exposes the structurally flawed and misleading measurements of poverty and hunger that have led official sources to routinely underestimate the scale of world poverty and hunger even as the global distribution of incomes, wealth, and access to health services becomes ever more imbalanced.
Arguing that any post-2015 development agenda will be futile unless it addresses the fundamental, structural flaws of the current system, this timely book suggests the relevance of an independent, transparent methodology to measure results and outlines a radically alternative approach to development, in which policy is informed by the knowledge and experience of those who live in poverty and face economic and social exclusion. It offers innovative poverty analysis built not only on realistic, grassroots data but on confronting the issue of power head on.
Poverty and the Millennium Development Goals represents a vital contribution towards a more equitable agenda for social, economic, political, and ecological justice, which can point the way towards a more holistic theory and practice of development.
'This important book critically examines the MDG experience in an original way. Essential Reading for anyone trying to understand how global governance might live up to its promise to eradicate poverty and achieve social justice.'
David Hulme, University of Manchester
'A thorough analytical assessment of the impact of the MDGs in substantially reducing poverty around the world. It should be read by scholars, policy makers and civil society.'
Alberto Martinelli, University of Milan
This book can be ordered from Zed Books

CHAPTER OVERVIEW

Chapter 1: Poverty and the Millenium Development Goals: a critical look forward
Alberto D. Cimadamore, Gabriele Koehler, and Thomas Pogge
Chapter 2: The MDGs and poverty reduction
Jomo Kwame Sundaram
Chapter 3: The view from deprivation: poverty, inequality and the distribution of wealth
Deborah S. Rogers and Bálint Balázs
Chapter 4: The quest for sustainable development: the power and perils of global development goals
Maria Ivanova and Natalia Escobar-Pemberthy
Chapter 5: Going beyond the eradication of extreme poverty: debating the sustainable Development Goals in Brazil
Rô mulo Paes-Sousa and Paulo de Martino Jannuzzi
Chapter 6: The MDGs versus an enabling global environment for Development: issues for the post-2015 development agenda
Manuel F. Montes
Chapter 7: MDG2 in Brazil: misguided education policies
Thana Campos, Clarice Duarte and Inês Virginia Soares
Chapter 8: Irrelevance of the MDGs and a real solution to poverty: Universal Citizen's Income
Julia Botvinik and Araceli Damiá n
01.09.2017