Winner of CROP International Studies in Poverty Prize 2015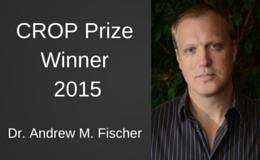 ANNOUNCEMENT: The CROP Secretariat is pleased to announce the winner of the CROP International Studies in Poverty Prize 2015, organised in co-operation with Zed Books
10 February 2016
The CROP Prize is awarded annually to outstanding monograph proposals contributing to research on global poverty eradication or prevention.
The winner of the 2015 Prize is Dr. Andrew M. Fischer, Associate Professor of Social Policy and Development Studies at the Institute of Social Studies (ISS) in The Hague, Erasmus University of Rotterdam, The Netherlands.
In his winning submission, Poverty as Ideology: Rescuing Social Justice from Global Development Agendas and the Poverty Industry, Fischer aims to examine how the ways we conceive and measure poverty instill propensities towards ideologically formed views of poverty and anti-poverty policies. Arguing that the focus on absolute measures has proven very ill-suited to understanding the dynamic reproduction of modern poverty within broader development processes, Fischer places these causal questions of poverty within broader debates about how wealth is created and shared within and across societies.
The 2015 CROP International Studies in Poverty Prize judges praised Fischer's submission as "laying out a rigorous analysis of how the official measurement of poverty is ideologically loaded in ways that seriously impair our understanding of how poverty is reproduced and how it should be fought."
The manuscript will be published as a monograph in the book series International Studies in Poverty Research, which is a joint venture between CROP and Zed Books. In addition, the author will receive the monetary award of NOK 50.000 (approx. USD 5.600).
10.02.2016