Open Access to CROP Publications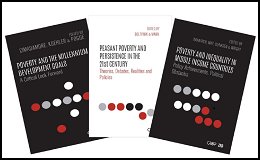 As from January 2017, CROP has two publication series available for free and open access via Bergen Open Research Archive (BORA).
1. ​CROP Series in International Poverty Poverty Studies

This CROP Series in International Poverty Studies encompasses books published in co-operation with academic publishers, Zed Books (London) and Ibidem Verlag (Stuttgart). Free and open access to these publications will be granted via BORA at the earliest six months after their release in book form.


2. Global Challenges - Working Paper Series
The working paper series (WPS) is a co-operative effort between CROP and UiB Global.

23.01.2017