CAN THE EUROPEAN UNION 2020 STRATEGY DELIVER ON SOCIAL INCLUSION?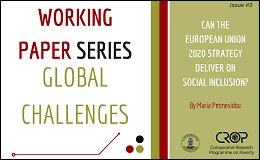 CROP/UiB Global WORKING PAPER SERIES on Global Challenges, Issue #3. Author: Maria Petmesidou
No. 3 - June 2017
This series seeks to disseminate research focused on issues such as poverty and inequality, sustainability, and other relevant global Challenges.
Open access to the full publication is available through Bergen Open Research Archive (BORA) at the University of Bergen:



ABSTRACT
In 2010, amidst the financial and sovereign debt crisis, the launching of a novel European strategy for "smart, sustainable and inclusive growth" signaled a significant step in the European coordination strategies for tackling poverty and social exclusion. Crucial in this respect is the unprecedented prominence accorded to a quantified goal in poverty reduction across the EU, to be achieved by 2020, along a supranational governance process that sets the ambitious aim of bringing the social field within the framework of EU financial and economic governance. In this paper, I critically examine how this new strategy has fared so far and what the expectations are for its effectiveness in combating poverty and social exclusion within the set time frame.
12.09.2017