Social Connectedness and Poverty Eradication: A South African Perspective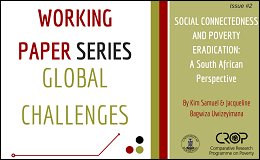 CROP/UiB Global WORKING PAPER SERIES on Global Challenges, Issue #2. Authors: Kim Samuel & Jacqueline Bagwiza Uwizeyimana
No. 2 - May 2017
This series seeks to disseminate research focused on issues such as poverty and inequality, sustainability, and other relevant global Challenges.
Open access to the full publication is available through Bergen Open Research Archive (BORA), the open research archive at the University of Bergen:

Abstract
Building on earlier work which argues that social isolation can be both a consequence of living in poverty and a cause of its persistence, this paper presents case studies of two South African programmes to illustrate how strengthening social connectedness may help to diminish intergenerational poverty. The central argument of the paper is that social connectedness can play a crucial role in providing access to social capital, in altering the exclusionary processes that entrench intergenerational poverty, and in helping to reduce other deprivations of multidimensional poverty. One of the case studies involves rural and urban communities in five of South Africa's nine provinces and the other is situated in urban Johannesburg. Through the case studies, and with reference to research on Indigenous knowledge, worldview and conceptions of connectedness, the paper explores mechanisms that promote social connectedness as a driver for eradicating intergenerational poverty. In so doing, it considers how an expansion of people's relational capabilities can alter exclusionary processes that impair the prospects and well-being of poor children and youth. The paper concludes that attention to social isolation provides insight into the enabling conditions for making progress towards the United Nations Sustainable Development Goal 1 (end poverty in all its forms) and Target 10.2 (empower and promote the social, economic and political inclusion of all).
12.09.2017