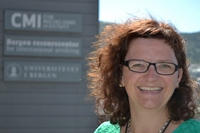 Charlotte Lillefjære-Tertnæs
Administrative Coordinator / CROP Secretariat
Charlotte joined the CROP Secretariat as administrative coordinator in January 2014.
She has previously worked with international relations at the University of Bergen (both within the Department of Research and the Department of Education) and she has been an international adviser at Hordaland County Council.
She has a cand.polit. degree in Comparative Politics from the University of Bergen and an M.A in Modern Asian Studies from Griffith University, Australia.