Independent evaluation and monitoring: Key contributions from the universities towards the achievement of the SDGs

CROP WORKSHOP PANEL at the SDG Conference in Bergen: "Knowledge for Our Common Future: Norwegian Universities and the Sustainable Development Goals"
8 February 2018 | University of Bergen, Norway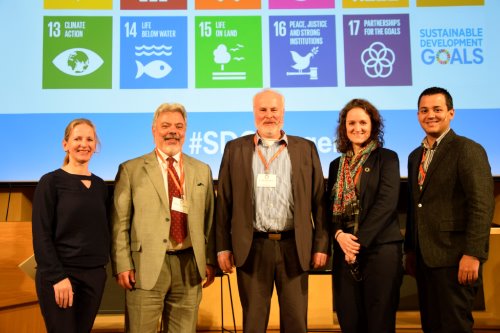 Maria Sollohub, Alberto Cimadamore, Lars Bjarne Kristofersen, Julia Kercher, Gibrán Cruz-Martínez

CROP's workshop panel at the 2018 SDG Conference will take place from 16:30-18:00 on Thursday 8 February and has the following point of departure:
In approving Agenda 2030 and the SDGs, the United Nations General Assembly clearly expressed its determination "to end poverty and hunger, in all their forms and dimensions, and to ensure that all human beings can fulfil their potential in dignity and equality and in a healthy environment." This is a core objective of the most ambitious development initiative the international community has ever undertaken. The relevant question now is: How shall we achieve it and how shall we incorporate the lessons learned from past initiatives (such as the MDGs) in order to end poverty and leave no one behind?
Departing from the lessons offered by the MDGs process, the panel will focus on:
the monitoring system set in motion by the UN to evaluate the process towards achieving SDG#1 and the need for independent assessments that can be provided by universities;
a critical evaluation of the progress made so far towards the achievement of SDG #1 and its targets, based on available data and documented trends;
the need to evaluate the multiple relationships between SDG # 1 and SDG # 2 ('end hunger, achieve food security and improved nutrition …'), SDG # 8 (promote sustained inclusive growth, full employment and decent work), SDG # 10 ('reduce inequality') and SDG # 17 ('global partnership for sustainable development', and their respective targets.
The panel discussion will look at how existing expertise in Norwegian universities can provide independent and critical evaluations that could be the cornerstone of a constructive monitoring process,which is key to the timely achievement of the SDGs. CROP will follow this up as a contribution to UiB's priority area of Global Challenges.
Format: Round table with presentations followed by a Q&A session
Panelists:
Alberto Cimadamore, Comparative Research Programme on Poverty (CROP), UiB/ISSC. Research focus: Poverty and Sustainable Development.
Lars Bjarne Kristofersen, NOVA (Norwegian Social Research), Centre for Welfare and Labour Research, Oslo Metropolitan University. Research focus: Child Poverty and the SDGs.
Gibrán Cruz-Martínez, Department of Global Development and Planning, University of Agder. Research focus: Social Policy and Welfare.
Julia Kercher, UNDP Oslo Governance Centre, Expert Consultant on SDG 16.
Chair:
Maria Sollohub, CROP Coordinator, Comparative Research Programme on Poverty, UiB/ISSC
See also the CONFERENCE WEBSITE and WORKSHOP PROGRAMME



06.06.2018