ASAP European Conference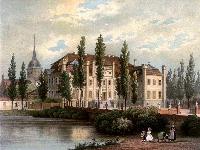 CONFERENCE: This conference will give participants the opportunity to share their experiences, forge new academic collaborations on issues related to global poverty, and discuss our collective duties to the global poor.
17-19 June 2015 | Schloss Wartin, Germany
Academics Stand Against Poverty (ASAP) and the Collegium Wartinum Foundation invite participants to the first ASAP Europe Conference (June 17-19) followed by a philosophy salon (June 19-21, 2015).
In addition to presentations and discussion, ASAP members, and those interested in joining the ASAP network, will have the opportunity to meet and interact over communal dinners, walks in nature, and other shared activities.
A subsequent philosophy salon, at which ASAP Chair Prof. Thomas Pogge will give the opening presentation, will follow the ASAP conference.
To reserve your place, please visit the ASAP website for more information.

11.05.2016