CROP International Studies in Poverty Prize 2017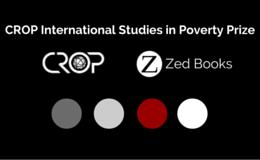 ANNOUNCEMENT: CROP seeks proposals for original, high-quality, alternative and critical academic manuscripts.
Deadline: 31 July 2017
Works challenging the dominant thinking and knowledge about poverty and providing sound contributions to the eradication and/or prevention of poverty in our world are especially welcomed.
CROP prize 2017 - flyer for distribution
Poverty must be the central focus of the proposed manuscript. Innovative proposals are accepted from all disciplines of the Social Sciences and the Humanities. CROP is especially (but not exclusively) interested in the themes of Poverty and Human Rights, Gender Disparity, Policy Innovation and Global Justice. The winner of the CROP International Studies in Poverty Prize 2017 will receive the equivalent of NOK 50 000 and the manuscript will be published by Zed Books in the CROP International Studies in Poverty series.
To submit an entry please compete a full book proposal. A proposal should be original and written in the English Language and it is important that it is formatted in accordance with the Zed Books guidelines. Submissions will undergo a blind, fair and unbiased review by a panel of international judges. The result will be published in late 2017.
Closing date for submission of proposals: 31 July 2017
Proposals to be submitted by email to: crop@uib.no
04.08.2017