Water and Development: Good Governance after Neoliberalism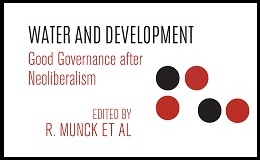 PUBLICATON: New book in the CROP International Studies in Poverty Research series, published by Zed Books, London. Edited by Ronaldo Munck, Narathius Asingwire, Honor Fagan and Consolata Kabonesa. OPEN ACCESS
September 2015
Water has always been a crucial catalyst for human development. In Africa, competition among different sectors for this scarce resource remains a critcial challenge to water managers and decision-makers.
Water and Development examines a range of issues, from governance to solar distillation, from gender to water pumps, using a range of research methods, from participant observation to GIS and SPSS data analysis. Throughout, however, there is the unifying thread of developing a participatory and sustainable approach to water which recognises it as an essential public necessity.
Edited by Ronaldo Munck, Narathius Asingwire, Honor Fagan and Consolata Kabonesa, the result is essential reading both for students of development and the environment and for NGOs and policy-makers seeking a robust and transformational approach to water and development.
The book can be ordered from Zed Books
| Honor Fagan on " class="watch-title " dir="ltr" data-redactor-tag="span" water="" and="" data-redactor-class="watch-title " data-verified="redactor" data-verified="redactor">|| Honor Fagan on " class="watch-title " id="eow-title" dir="ltr" data-redactor-tag="span" water="" and="" data-redactor-class="watch-title " data-verified="redactor" data-verified="redactor">Presentation of the book by Honor Fagan, National University of Ireland
CHAPTER OVERVIEW

Chapter 1: Water, development and good governance
Ronaldo Munck
Chapter 2: Liquid dynamics: challenges for sustainability in the water domain
Lyla Mehta and Synne Movik
Chapter 3: Can IWRM float on a sea of underdevelopment? Reflections on twenty-plus years of 'reform' in sub-Saharan Africa
Larry A. Swatuk
Chapter 4: Water politics in eastern and Southern Africa
Sobona Mtisi and Alan Nicol
Chapter 5: Integrated water management and social development in Uganda
Gloria Macri, Firminus Mugumya and Áine Rickard
Chapter 6: Governance and safe water provisioning in Uganda: theory and practice
Firminus Mugumya and Narathius Asingwire
Chapter 7: Woman water keeper? Women's troubled participation in water resource management
Richard Bagonza Asaba and G. Honor Fagan
Chapter 8: Women and water politics: an ethnographic gender perspective
Joyce Mpalanyi Magala, Consolata Kabonesa and Anthony Staines
Chapter 9: Understanding adaptive capacity on the ground: a case of agro-pastoralists in a rural parish, Uganda
Mavuto D. Tembo
​
01.09.2017