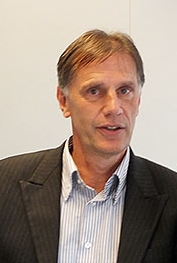 Michiel Baud
Professor in Latin American Studies / University of Amsterdam, THE NETHERLANDS
Michiel Baud is Director of the Centre for Latin American Research and Documentation (CEDLA), hosted by the University of Amsterdam.
He graduated in Contemporary History at the University of Groningen in 1982 and received his PhD in Social Sciences at Utrecht University in 1991. From 1995 to 2000 he was Professor of Latin American Studies at the University of Leiden. .
Professor Baud's PhD research was carried out in the Dominican Republic, where he studied the social history of a tobacco producing peasantry in the northern part of the country. In doing so he combined traditional historical documentary research with anthropological fieldwork techniques. After finishing his PhD he did research in southern Ecuador and North-Eastern Brazil.
His current research interests are indigenista ideologies and their influence on present-day academic interpretations of the Andes, the role of ethnic movements in Latin American politics, the social history of Latin American borders, the analysis of Latin American modernity and the construction of collective memories in present-day Latin America.
Author of wide range of publications,his publications include:
'State and Society in Argentina: Change and Continuity under the Kirchners'. European Review of Latin American and Caribbean Studies. October 2013.
'Environmental Governance in Latin America: Towards an Integrative Research Agenda' (Coauthor). European Review of Latin American and Caribbean Studies 2011.
Cultural Tourism in Latin America (Co-edited): The Politics of Space and Imagery. CEDLA Latin America Studies 96, 2009.
Please click here for the complete publications list of Prof Dr Michiel Baud