Poverty & the MDGs - A critical assessment and a look forward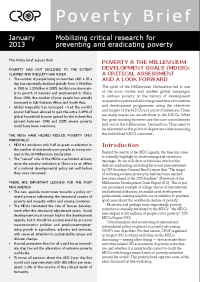 CROP POVERTY BRIEF by Alberto D. Cimadamore, Bob Deacon, Sigumnd Grønmo, Gabriele Koehler, Gro Therese Lie, Karen O'Brien, Isabel Ortiz, Thomas Pogge, Asuncion St. Clair
January 2013
It is a result of the discussions at a recently organized CROP workshop on the Millennium Development Goals (MDGs). The document argues that:
POVERTY HAS NOT DECLINED TO THE EXTENT CLAIMED AND INEQUITY HAS RISEN
The number of people living on less than USD 1.25 a day has reportedly declined globally from 1.94 billion in 1981 to 1.29 billion in 2005, but this was due mainly to growth of incomes and employment in China. Since 1981, the number of poor people has actually increased in Sub-Saharan Africa and South Asia.
Global inequality has increased - had the world's poorer half been allowed to gain the extra 3.49% of global household income gained by the richest five percent between 1998 and 2005 severe poverty could have been overcome.


THE MDGs HAVE HELPED REDUCE POVERTY ONLY MARGINALLY

MDG #1 envisions only half as great a reduction in the number of extremely poor people as was promised in the UN Millennium Declaration.
The "causal" role of the MDGs was limited at best, since the poverty reduction in China was an effect of a national developmental policy set well before they were conceived.


THERE ARE IMPORTANT LESSONS FOR THE POST MDG AGENDA

The new agenda must move towards a policy oriented process addressing the structural causes of poverty and inequity within and among countries.
The MDGs reinstated the role of human development after the structural adjustment years. Social development must remain high in the development agenda, but it should be accompanied by pro-poor macroeconomic policies and employment-generating growth in agriculture, industry and services, with renewed attention to sustainability issues and climate change.
A social protection floor for all would be an immediate step toward the alleviation of extreme poverty worldwide.
To move all persons above the USD 2 per day line would cost approximately USD 300 billion per year; about 1.2% of the income of the richest tenth of humanity.
POVERTY BRIEF 13: Poverty and the MDGs - A Critical Assessment and a Look Forward
Overview of CROP Poverty Briefs




24.02.2016