CROP Poverty Briefs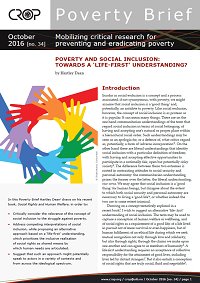 The CROP Poverty Brief Series comprises a series of short research notes highlighting research and trends in global poverty.

IMPORTANT INFORMATION:
Thank you for your interest in the Comparative Research Programme on Poverty at the University of Bergen.
CROP is currently undergoing changes in its organisational structure, which means that we will not be publishing further issues in the CROP Poverty Brief Series.
(Bergen, 25 October 2019)

The ideas contained in CROP Poverty Briefs are those of the named authors and do not necessarily reflect a consensus view of CROP. They are distributed as a contribution to the effort to "mobilize critical research for preventing and eradicating poverty" and are submitted in accordance with the CROP Poverty Brief Guidelines.
Below is an overview of all briefs in the series so far:

25.10.2019